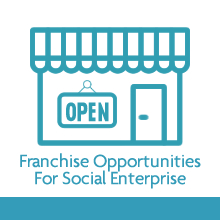 In this project, Franchise Opportunities For Social Enterprise, Vancity and Vancity Community Foundation (VCF) are working together to develop and carryout a multi-phase plan to explore franchising as one potential option/path for non-profits seeking to launch a social enterprise.

Together we have provided strategic support and investment to organizations for planning or launch of enterprise from scratch. We are now exploring further alternative business development paths, such as franchising or business acquisition, for non-profit social enterprise that may facilitate improved success and viability of social enterprises and reduce risk to the organizations and funders.
The project will be delivered in three phases:
Phase 1 - "Research" | September - December 2015
In the first phase of the project we carried out research to identify the most suitable franchise opportunities that have strong potential to achieve community impact and operate effectively as a social enterprise. Download the Preliminary Report.


Phase 2 - "Engagement & Evaluation" | January to April 2016
In the second phase of the project we actively engaged non-profits and franchisors with a goal to select and evaluate five non-profits and five franchisors using the frameworks developed in Phase 1. You can find our invitation to franchisors here. 


Phase 3 - "Implementation" | May 2016 onwards
Two potential social enterprise franchise deals involving 2 Surrey based non-profit organizations and 2 franchisors will be identified and developed with navigation support provided through Vancity. 
For more information, contact FOSE@Vancity.com