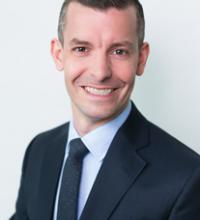 Clayton is the Chief Financial Officer for Vancity and joined the Foundation's Board of Directors in 2022.
As Chief Financial Officer, Clayton Buckingham oversees the health of its $26.4 billion in assets and assets under administration. Clayton came to Vancity from the British Columbia Automobile Association, where he served as Senior Vice President, Chief Financial Officer and Chief Insurance Officer.
Prior to being named its CFO in 2013, Clayton served the BCAA and its almost 900,000 members in a number of other finance-related capacities: as director, financial planning and analysis; and as corporate controller. During his time at BCAA he progressively assumed responsibility for BCAA's insurance operations and was ultimately named the organization's Chief Insurance Officer in 2019.
Clayton has experience leading a team of diverse professionals and overseeing a large organization's financial activities, including corporate finance, accounting, investment management, insurance, tax, internal audit, risk management, regulatory compliance, strategic planning, budgeting and forecasting.
Among his individual accomplishments, Clayton was honoured with a B.C. CFO Award in 2016, in the transformation agent category, by Business in Vancouver and the Chartered Professional Accountants of British Columbia.
Born in New Westminster and raised in Port Moody, Clayton has lived in Vancouver since 2015. He serves as a director of the Take a Hike Foundation, a full-time alternate high school program that uses the outdoors and adventure to engage vulnerable youth in school, community and mental health supports.
Clayton is an enthusiastic outdoorsperson who enjoys downhill skiing, ski touring, hiking and running, although he says his time spent pursuing those activities has been curtailed since he and his wife welcomed their son Henry into the world in 2018.