Black Students in Canada Fund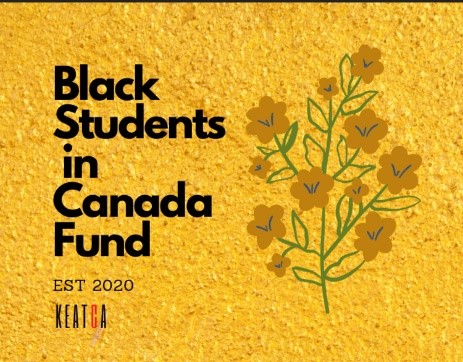 Recent protests supporting Black Lives Matter have demonstrated the need for expanded awareness and support for Black communities in Canada facing anti-black racism, and how it impacts every aspect of their lives. In response, the founders of the KEATCA Fund have launched the Black Students in Canada Fund, and are seeking to raise a minimum of $125,000 to disburse $5,000 in grants every year.
Context and Vision
One impact of systemic anti-Black racism is that it perpetuates intergenerational poverty; as a result, many Black students can face difficulties accessing public post-secondary education, which we believe is one of the most important tools for change.

The roots of anti-Black racism and systemic discrimination in Canada run deep. They are historically embedded in our society, in our culture, in our laws and in our attitudes. They are built into our institutions and perpetuate the social and economic disparities that exist in everything from education, to healthcare, to housing and employment.~Canadian Human Rights Commission (2020)
In 2008, we founded the KEATCA Fund (Knowledge, Education and Training Canada) to support students with financial barriers to pursue public post-secondary education. Now, in solidarity with the Black Lives Matter movement, we are initiating this fundraiser specifically for Black students. Please contribute and support Black post-secondary students from across Canada to meet their educational goals.
GOAL
Our goal is to raise a minimum of $125,000 to create a sustainable endowment fund to support Black students attending Canadian public post-secondary institutions. The income from the endowment will be used to provide $5,000 in grants every year in perpetuity. Identification of grant recipients will occur in partnership with Registered Canadian Charities run by and for Black communities. Regardless of the amount raised, we will continue to support Black students through partner organizations.