For the love of theatre!  The Ellen Tattersfield Memorial Fund supports the educational programs and activities of Bard on the Beach Theatre Society.
Give to this Fund
Donations of $20 or more will receive an official tax receipt. Official tax receipts will be issued to the individual or organization named on the credit card.
How it began...
When our Mother died in 2005, several kind friends asked if there was a favourite charity or cause to which they could make a donation in her name. After her affairs were settled and the family had time to reflect on her life, we were able to see, in retrospect, the things that had really given her pleasure throughout her life.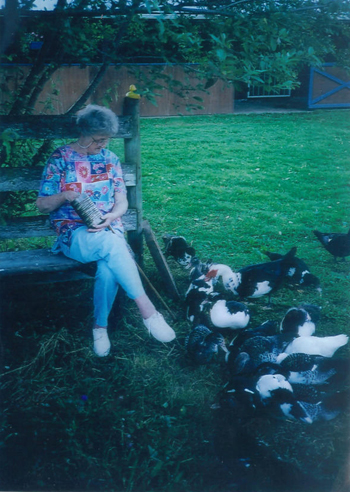 The continuous thread was her love of theatre. As her children grew up she was able to get more involved with semi-professional dramas and musical productions in Vancouver and on the North Shore. Her earliest involvement was through stage makeup, originally learned from her modeling days in pre-war London. In the early to mid-sixties, as the theatre world was beginning to flourish in Vancouver, she was part of the makeup team for various regional dramas groups, The North Shore Light Opera Society, some of the early productions of The Vancouver Opera, Theatre in the Park and Metro Theatre. Musical theatre was another aspect of the stage that our Mother loved and she sang in the choir of the North Shore Light Opera as well as being part of the makeup team for over fifteen years.

As our parents got on in years, theatre continued to be one of their greatest pleasures.
As age and arthritis took its toll they played a more passive part in enjoying the theatre. When Bard on the Beach first started in 1990, our parents were among the first volunteers. They both had enjoyed a lifelong love of Shakespeare and were thrilled to see it come to life 'under the tents at Vanier Park". In her final years we all knew how much our Mum loved summer evenings, enjoying a picnic supper, watching the audience gather and handing out programs.

In the end, it became obvious, that this is where the family would like our Mother's memory to continue on. The Ellen Tattersfield Memorial Fund has been established in her name to assist the education of young theatre student who are nurtured along by Bard on the Beach. The dream being that those same young students, in turn, offer to future audiences the chance to experience the same magic and pleasure that the theatre gave to our Mother. Our Father encouraged the creation of this fund and it was from him that the first sizeable donation came.

Our family would be honoured if you would like to make a donation to the Ellen Tattersfield Memorial Fund.

Yours Truly,
Jan Systad, Jamie Tattersfield, Nick Tattersfield