Hans Peter Rodseth Memorial Fund
Peter put back into his community and we are following his lead. Should others wish to add to the Hans Peter Rodseth Memorial Fund in memory of the force that was Peter we encourage you do so.
The Hans Peter Rodseth Memorial Fund provides educational scholarships to students in the Nechako Valley to pursue post-secondary education at a community college, university or equivalent educational institution so that they may commit to education and to making their community a better place where the natural beauty can be enjoyed and the environment protected.
Peter's Story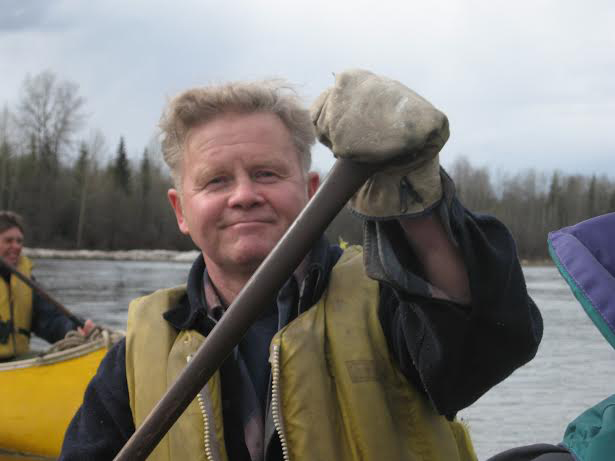 Upon Peter's death in 2014 his network of friends in the Nechako Valley came together to support the family and celebrate Peter's life. We all learned so much about Peter. He touched many lives and mentored many young people.
Peter came to the Nechako Valley as a young forestry technician in the 1970's. He built himself a log home overlooking the Nechako River Bird Sanctuary and he would become the catalyst and inspiration for community groups fighting for fair flows for the Nechako River through the 1980's and 90's. Peter had a passion for rivers, forests and mountains and was happiest when canoeing, skiing, running, hiking, camping and sharing these skills with others. He guided the Cross-Country Ski Club, the Cub Scouts, Junior Forest Rangers and burgeoning runners and woodcarvers. A master woodcarver and trail builder by trade, his crowning achievement was the 12 metre long by 3.2 high hand-carved red alder wood mural in the Service BC Building in Vanderhoof. It is his poem to life for his passion of the bountiful landscape of British Columbia, its rivers, its rich First Nations and Pioneer history.
Peter put back into his community and we are following his lead. Should others wish to add to the Hans Peter Rodseth Memorial Fund in memory of the force that was Peter, we encourage you do so.
A caring and compassionate man, he was the environmental conscience of the community and a formidable foe of those who would despoil our only home, Planet Earth. In Peter's words, "we must treat our fragile planet with great respect." It is hoped his memory will embody some of Peter's love of the natural beauty of this world and his passion for protecting its environment.
Apply for Funding
Each year the Hans Peter Rodseth Memorial Fund awards a $2000 scholarship to one successful applicant.
Eligibility
To be considered, applicants MUST:
be attending Nechako Valley Secondary School or Northside Christian School in Vanderhoof.
demonstrate a high level of interest in, and a commitment to, the protection of the environment and a burgeoning history of active involvement.
be pursuing post-secondary studies in a registered post-secondary institution in areas such as environmental studies, sustainable ecology, conservation, outdoor recreation/education, marine/fisheries biology, clean air and water.
be attending a post-secondary institution that is a registered charity. Please contact Vancity Community Foundation if you have any questions about a post-secondary institution's eligibility.
Application Process
In order to be considered for the Hans Peter Rodseth Memorial Fund Scholarship, applicants must include the following information in their application:
A letter stating why they should be considered and how they meet the eligibility criteria.
Two letters of recommendation are required and academic standing must be supportive of the applicant's stated goals.
A 400-500 word essay on the reasons for pursuing their course of study.
Questions and applications may be directed to:
Deadline
Applications must be received April 1 each calendar year.