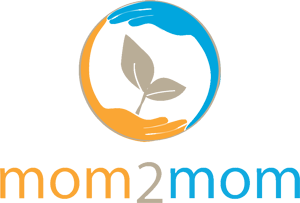 The work of Mom2Mom Child Poverty Initiative Society is based on research in child development and neuroscience that has shown that enriching children's environments, lowering levels of family stress and connecting mothers to their child's school and to community social supports leads to positive changes in children's learning and development. When these things are in place, children are happier, better adjusted and more likely to succeed in school. Mothers are better able to nurture and attach to children when they aren't struggling every day to meet basic needs. In this way, the cycle of poverty and adversity can be broken and children can look forward to improved life chances.

Please consider giving to Mom2Mom so that children who are hungry will be fed and families that need clothes and furniture will be provided for. With basic needs met, women can begin to form supportive friendships by connecting with mentors and taking steps to change the future for themselves and for their children.
DONATE
Mom2Mom improves outcomes for children in poverty by supporting their moms. Your donation helps moms and their families directly. Your gift keeps food on the table and provides essentials for families like clothes, shoes and glasses for growing children.
About Mom2Mom
Goals
The goals of Mom2Mom are to:
Provide respectful mentorship to mothers
Help to alleviate the stresses of poverty
Connect women to their children's schools
Connect women to their communities
History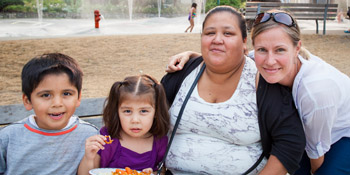 Mom2Mom arose from a developmental pediatrician's work in Vancouver's inner city schools over several years, helping children with learning and behavioral challenges. It was observed that poverty, combined with isolation and often histories of past trauma put barriers in the way of mothers moving forward, and in turn, contributed to children not succeeding in school. Mom2Mom was founded as an attempt to help women to step away from the cycle of poverty they are in.
The long term goal of "Mom2Mom" is to provide a hand up for struggling families so that they can have the strength and support to move forward with their lives instead of being mired in the relentless stress of poverty.
Mom2Mom was born out of the pairing of all these incredible women: the women who just need a hand up to raise their children in the healthiest way possible, and compassionate women who want to make a difference in a respectful way, knowing that they may end up receiving more than they give!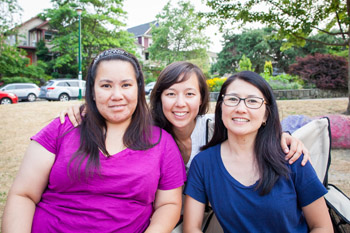 Many women in the inner city have not had the advantage of growing up in healthy families that modeled the kind of parenting that they want for their children. Many of them don't have healthy mothers, sisters or neighbors whom they can go to for help and guidance. Often the services that are available come with strings attached and the fear of having children removed into foster care is always present. It was noted that many of these women had survived huge challenges and help for their families was needed that was compassionate, non-threatening, patient and practical.  There had become an increasing awareness in Vancouver of the disparities between rich and poor; people were realizing that in a province as rich as British Columbia, it wasn't right that children living minutes away weren't having their basic needs met. Stories of children going to bed hungry and then waking and going to school hungry didn't fit with the kind of Canada they envision. The people of Mom2Mom wanted to make a difference.