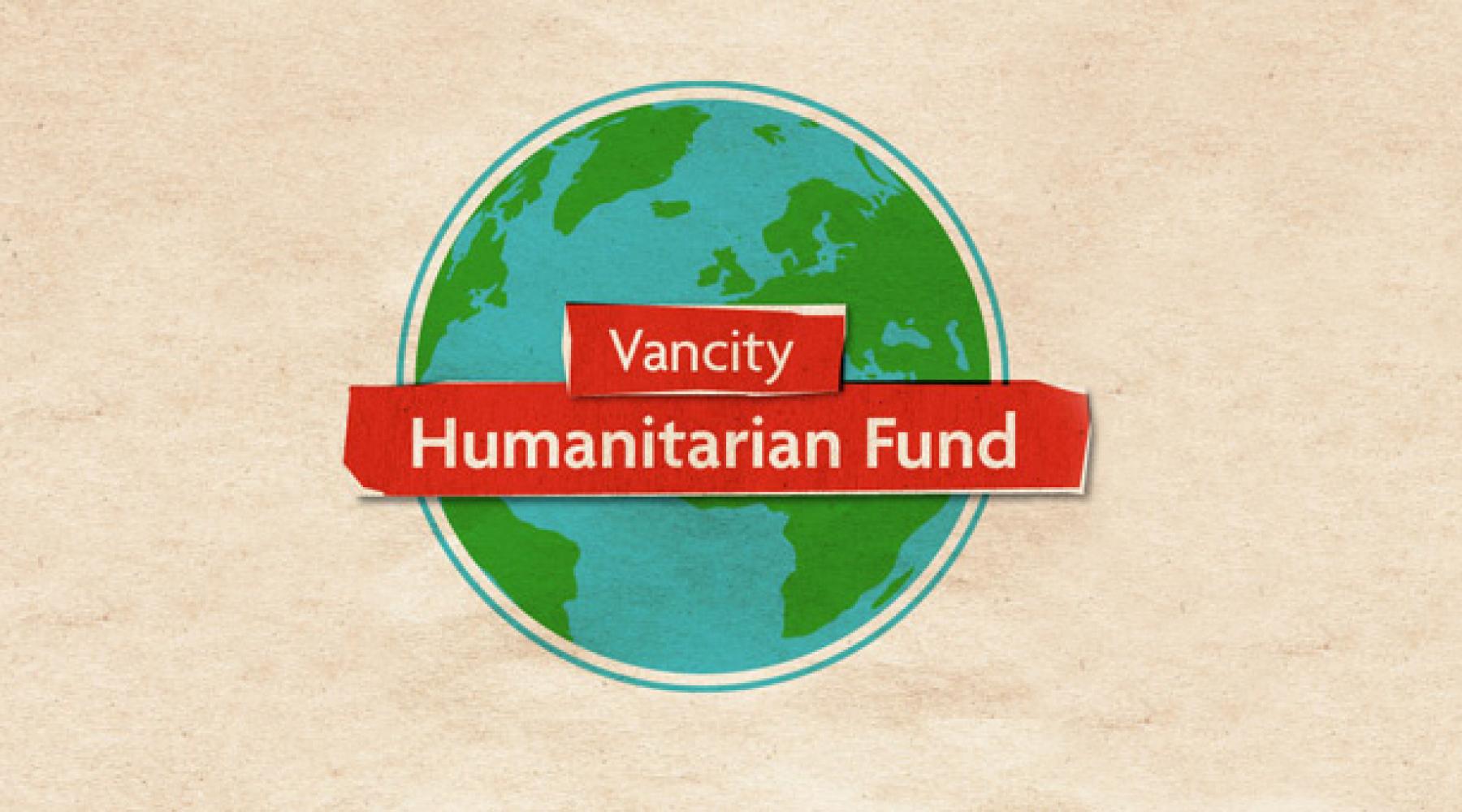 Vancity Humanitarian Fund
As a values-based financial cooperative, Vancity is committed to promoting social justice and financial inclusion for its members and those who reside in the communities it serves. The Vancity Humanitarian Fund was established in September 2015 in response to the Syrian refugee crisis and to provide ongoing support for organizations that address this and other humanitarian causes.
Vancity invests in this Fund and undertakes many other initiatives to promote member well-being and to build healthy, sustainable communities – all contributing to a more resilient local economy.
Please join us in growing the Fund and our ability to respond to humanitarian issues, now and in the future, through your gift of Vancity Visa* Rewards points, Vancity shared success dollars, or an online donation.
Supporting humanitarian causes
In February 2022, a $25,000 contribution was made to the Ukraine Humanitarian Appeal established by the Ukrainian Canadian Congress (UCC) and the Canada Ukraine Foundation (CUF) to support those in need in the Ukraine. 

In November 2021 and into 2022, the Vancity Humanitarian Fund mobilized support to communities impacted by devastating weather events across British Columbia. Through the Fund, Vancity matched donations from members and the public between November 19 and December 19 up to $100,000.  Vancity members and the public gave generously to support BC Communities, donating more than $195,000 for a combined total of over $295,000. Funds were deployed to a number of regional flood responses through the Canadian Red Cross as well as through grants and direct support for First Nations, farmers, migrant workers and more.

In August 2021, a $25,000 grant to the Canadian Red Cross was designated to the Afghan Red Crescent Society (ARCS) to support a humanitarian response in Afghanistan where tens of thousands fear persecution under the Taliban. ARCS works tirelessly to bring basic vital humanitarian services to many of the hardest to reach places and has a unique role as an officially recognized disaster response organization.

In August 2021, a $25,000 grant to the Canadian Red Cross was designated to the Haiti Earthquake Appeal, to support the humanitarian relief efforts in Haiti following a devastating earthquake on August 14. Donations to the appeal support immediate and ongoing relief efforts, long-term recovery, resiliency and preparedness for future events in Haiti and impacted regions/

In Summer 2021, to support the communities affected by wildfires across BC, Vancity Credit Union, through the Vancity Humanitarian Fund made an immediate donation of $25,000 to the Canadian Red Cross 2021 British Columbia Fires Appeal.  Vancity then launched a member matching campaign:  through the Humanitarian Fund, Vancity matched each donation received from members and the public between July 3 and August 3 up to $50,000. The community responded with incredible generosity, donating over $149,000. These funds, plus the $50,000 from Vancity, were sent to the Canadian Red Cross where they were then matched by the Provincial and Federal governments. In addition, Lytton First Nation was directly supported with a $10,000 grant from Vancity Community Foundation and Vancity Humanitarian Fund. 

In May 2021, a $25,000 contribution was made to the India COVID-19 Response Appeal through the Canadian Red Cross. This donation will help the Red Cross support COVID-19 preparedness, response and recovery activities in India, including the distribution of COVID-19 prevention information, providing hygiene items and food packages, supporting ambulance services, and providing logistical support for healthcare services.
 
In April 2020, $25,000 was donated to the Stronger Together Nova Scotia Fund following the devastating attacks in Portapique, Wentworth, Debert, Shubenacadie and Milford; helping the communities and families directly affected by the tragedy to access supports and begin their journey of recovery.
 
In March 2020, a $100,000 contribution was made to the Canadian Red Cross to support their national response to COVID-19.
 
In January 2020, in response to the unprecedented Australian bushfires, the Vancity Humanitarian Fund contributed $25,000 to support relief efforts through the Society of Saint-Vincent de Paul, along with many other Credit Unions globally and The World Council of Credit Unions.
 
In October 2018, over $7,500 was donated to The Canadian Red Cross to support BC Wildfire Relief efforts. Half of this funding was from Vancity members, and their generous donations were matched by the Fund. Thanks to another donation-matching program of the Provincial Government, Red Cross received over $11,000 in total thanks to Vancity member donations.
 
In November 2017, the Fund granted $9,000 to Doctors Without Borders to support Rohingya refugee relief – and in support of Vancity staff member Sabrina Meherally's community fundraising efforts.
 
In early 2017, a total of $50,000 was given in grants of $25,000 to each of  Archway (formerly Abbotsford Community Services) and Inter-Cultural Association of Greater Victoria. 
 
In April 2016, the Vancity Humanitarian Fund granted $100,000 to support local refugee resettlement initiatives through Immigrant Services Society, Mount Pleasant Family Centre, and Vancouver Association for Survivors of Torture.
 
In December 2015, $33,400 in Vancity members and community donations to the Vancity Humanitarian Fund were matched with a $33,400 contribution from Vancity credit union and distributed to the UN Refugee Agency (UNHCR).  Member & community donations were also matched by the Canadian government, resulting in a $100,200 contribution to Syrian emergency relief overseas.