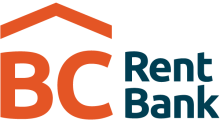 BC Rent Bank is a project of Vancity Community Foundation, funded by the province of British Columbia. Since 2019, BC Rent Bank has been working in collaboration with community-based agencies to ensure that renters can access a rent bank and its support services to help stabilize rental housing during an unanticipated short-term financial challenge.
A rent bank is a housing stability and homelessness prevention resource that offers financial solutions, advice and a friendly face to help low-to-moderate income renters who are struggling to pay rent and/or essential utilities (gas, hydro). Rent banks can offer or facilitate access to supports such as financial literacy, debt/credit counselling, landlord-tenant mediation, vocational supports, legal advocacy and other services that contribute to financial and housing stability. The maximum loan amount is $3500 and repayment terms are from 6 to 36 months. Terms of agreement are set by the local rent bank.
BC Rent Bank does not provide financial assistance directly to tenants, but instead seeks to provide support, resources, training and IT support for the province-wide network. We partner with community-based agencies which operate rent banks in communities around B.C. These organizations provide support to tenants and administer financial assistance directly to landlords or utility companies on behalf of tenants.
If you have any further questions about BC Rent Bank, please email: info@bcrentbank.ca or call: (604) 877-8453.