Written By: Amy Reid - Surrey Now
Photo Credits: Amy Reid - Surrey Now
SURREY — The rust on the tent poles laying on her worn, blue duffel bag stood out.
Almost as eye-catching were the bloody sores on her hands and face.
Standing outside a Whalley McDonalds on a damp Wednesday morning, the 28-year-old Aboriginal woman said she slept in the bush the night before, despite having paid rent somewhere this month.
She was talking to two volunteers with the Metro Vancouver Homeless Count, run by the BC Non-Profit Housing Association, which aims to provide a snapshot of the region's homeless population.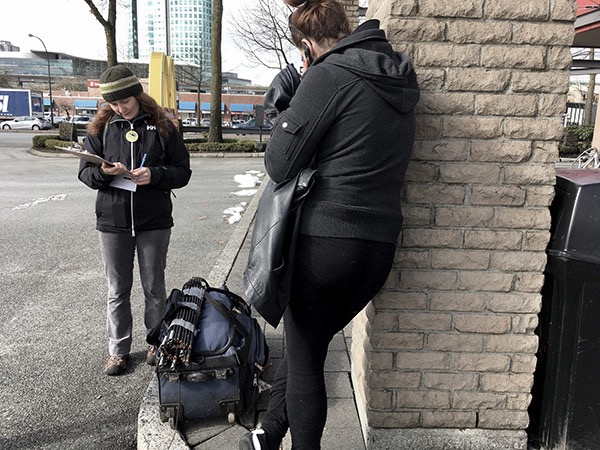 They were two of more than 1,200 volunteers around the region – roughly 200 in Surrey alone – that hit the streets on March 8 to count the homeless population, as is done every three years in Metro Vancouver.
Armed with yellow buttons, pens and surveys, the volunteers' mission was to locate as many homeless people as they could, the results of which will be used for acquiring resources and creating an understanding of the homeless demographic.
The count actually began the night before, with a tally of homeless people staying in shelters. But the street snapshot began as early as 5 a.m., for some volunteers.
Surrey Homelessness & Housing Society's Jen McCaffrey began her day at 10 a.m., along with her teammate for the day, Amy Makepeace.