Last week we shared about our Truth and Reconciliation journey. Today, as we approach September 30, the 10-year anniversary of Orange Shirt Day and National Day for Truth and Reconciliation, we invite settler-Canadians to join us in taking reconcilACTION by participating in the One Day's Pay campaign.  
The One Day's Pay campaign started in 2021 on the first National Day for Truth and Reconciliation. The campaign was created by a small group of friends and colleagues who felt conflicted that Canadians were being asked to reflect on September 30, in many cases getting a paid day off, rather than taking more concrete actions towards Truth and Reconciliation. 
"I think a lot of settlers at this point are starting to think about these issues. They are asking questions like how can I help, what can I do? How can I take action? That's the same place that I came from, not knowing what I can do personally." - Josh Hensman, founder of One Day's Pay 
One Day's Pay is guided by The Circle on Philanthropy, an Indigenous women-led organization that works to mobilize the settler philanthropic sector to move funds to Indigenous-led projects, movements, organizations, and Nations. 
"When I think about who I would like to see give, folks who have barbeques on Canada Day, and folks who love their hockey team. I'm talking about folks who take pride in being Canadian because I want their pride to mean more." - Kris Archie, CEO of The Circle on Philanthropy 
Learn more about the One Day's Pay campaign in this video.
Two Ways to Take Action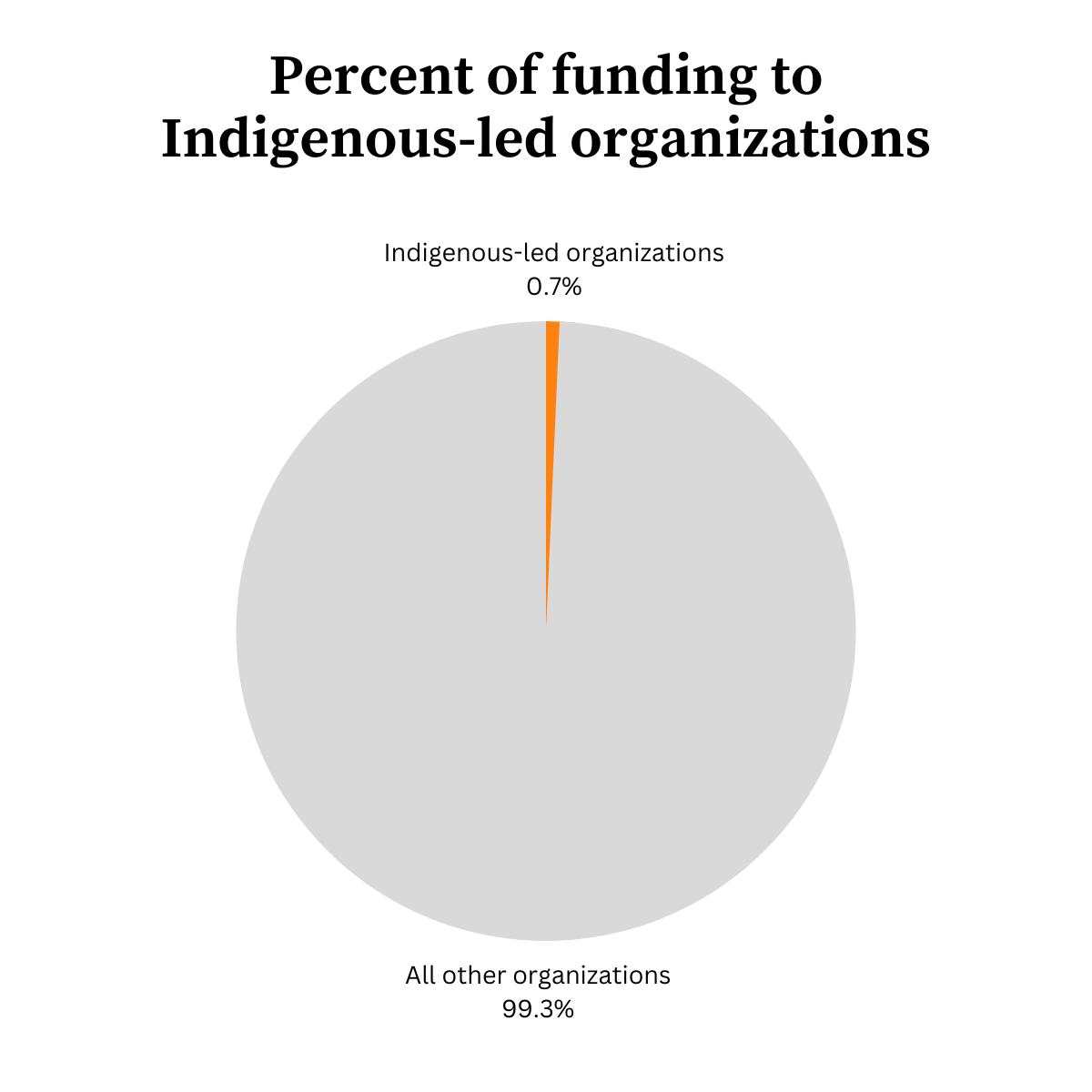 As an act of Reconciliation on September 30, One Day's Pay encourages those who can to learn about and make a direct financial contribution to an Indigenous-led and benefitting organization. Doing so ensures your gift is received entirely by the Indigenous-led organization, with use of funds determined by those who truly understand where it will help. Indigenous people comprise approximately 4.9% of the population, yet Indigenous groups receive just over one half a percent (0.07%) of gifted funds, or $1 for every $138 given to non-Indigenous groups (Canadian Charity Law Report, 2022). Many Indigenous-led projects, organizations, and movements either aren't eligible to become registered charities or choose not to seek charitable status, so be open to giving without receiving a charitable tax receipt in return. One Day's Pay encourages giving in two ways: engaging more deeply and giving directly to a profiled organization.
Engage More Deeply 
You may choose to engage more deeply, by reflecting and learning about an Indigenous-led organization in your region to support. The Circle on Philanthropy has created this Guide to Deeper Engagement, which includes reflection questions and guidance to identify an Indigenous-led organization in your region, as well as conversation starters and resources. The guide also includes information and resources about the word "settler" and its meaning. 
Make a Donation 
You may also consider making a donation directly to one of the four organizations that One Day's Pay is profiling throughout their campaign:  
Further ReconciliACTION
For many settler Canadians, information and education about Residential Schools and the ongoing impact of colonization is not something they learn about in school. There are an abundance of resources available to further your own learning, as well as guides to taking 'Reconcili-action'.  
Consider visiting one of the following websites, which list resources including videos, articles, books, courses, and more: 
Background
Vancity Community Foundation's support for the One Day's Pay campaign is one way we have enacted our ongoing commitment to decolonizing wealth. Vancity Community Foundation has made a donation of $23,000, which is equivalent to one day's operating pay, to the Kw'umut Lelum Foundation. Settler staff and Board members who are able to give are participating in solidarity.  
To learn more about One Day's Pay, visit their website. 
Vancity Community Foundation operates on the lands of many Indigenous Nations. We bring our hearts and minds together and acknowledge the territories of these nations. Our office, 312 Main, is located on the unceded territories of the xʷməθkʷəy̓əm (Musqueam), Skwxwú7mesh (Squamish) and səl̓ílwətaʔ /Selilwitulh (Tsleil-Waututh) Nations.