Westcoast Genesis Society opens its doors to men in need
The Westcoast Genesis Society is a non-profit organization and registered charity that formed in April 2000. From the onset, its mission was to actively promote the physical, psychological, emotional, and spiritual well-being of persons who are socially marginalized in the community. This led to supportive housing and programs for adult male offenders and the chronically homeless.
Maria Keary Cottage is the result of a collaborative effort, in the true spirit of togetherness. Neighbours and residents spoke in support of our application to the City for zoning changes and permission to build 35 units for ex-offenders and individuals still battling substance abuse. This overwhelming show of support can largely be attributed to the depth of our relationships within the community, the confidence that we had a good grasp on the task at hand, as well as a sophisticated and shared understanding of what the real risks and benefits are, among all shareholders.
- The late Andrew Boyd, Founder and Executive Director, Westcoast Genesis Society
For Vancity Community Foundation, building assets and creating inclusive spaces within our communities has always been dear to us. As such, we embrace the society's mission wholeheartedly. And it's been this way since 2004, when we began supporting the early plans for the society's Maria Keary Cottage, a heritage restoration and social housing project that facilitates programs for residents and includes 35 beds and residential programs. This initial support – which included a business development grant from the Enterprising Non-Profits program – made it possible for Westcoast Genesis to bring on other experts and funders, so they could roll out a project that was once merely the kernel of an idea. Maria Keary Cottage opened in 2010, and our modest grants helped propel Westcoast Genesis along a development path and leverage more than $6,000,000
to make this idea a reality.
Matching Cottages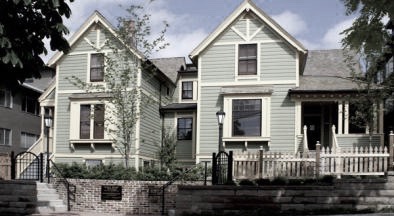 These matching cottages were built in 1887 by Maria Keary to be used as affordable rental housing when the CPR arrived in bustling New Westminster. In 2009 Westcoast Genesis rehabilitated these twin 1887 houses with full community support, and opened the Maria Keary Cottage, a 35-bed supportive housing facility. The houses are now the oldest surviving buildings by noted BC architect, Samuel Maclure.