Surrey Homelessness and Housing Society
In 2007, the City of Surrey allocated $9 million from the City of Surrey's Affordable Housing Reserve Fund to seed the Surrey Homelessness and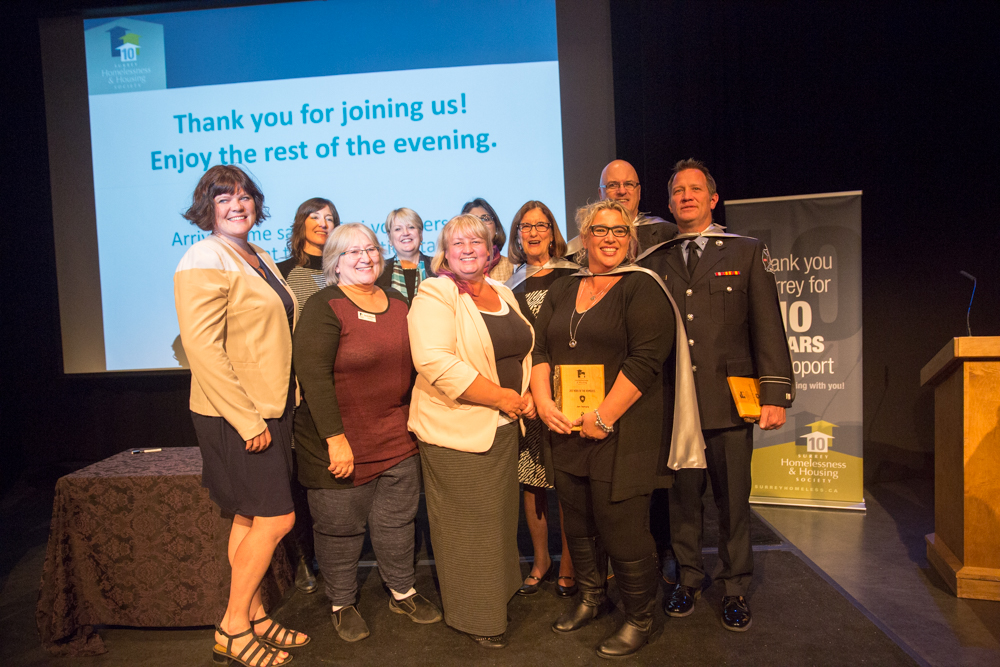 Housing Fund at Vancity Community Foundation. The Fund was created in response to the emerging trend of homelessness and lack of affordable housing in the City of Surrey. The Society administers grants on behalf of the Fund, and works collaboratively with its partners to foster solutions to homelessness with a focus on creating housing for both homeless and at-risk individuals and families.
2017 marks the 10th anniversary of the Surrey Homelessness and Housing Society (SHHS). Over the past ten years the Society has provided over $3.5 million in funding to Surrey organizations that assist people experiencing homelessness. The Society has supported 55 projects with more than 50 partners assisting over 500 individuals, including children, who were homelessness or at imminent risk of homelessness. More challenging to measure is the support for capacity building that the Society has provided to the non-profit service sector in Surrey. In 2017, the Society approved seven grants totaling $230,000 for projects and initiatives that demonstrate a direct impact in reducing homelessness in Surrey.  
The Sohkeya Project
With a mandate to provide housing for people of Indigenous ancestry living on limited incomes, Kekinow Native Housing Society (KNHS) is one of the seven organizations to receive critical funding. KNHS creates positive, supportive communities for Indigenous people, encouraging the celebration and expression of culture and the development of healthy individuals and families while providing safe and affordable housing. KNHS has only 9 one-bedroom and 42 two-bedroom units in Surrey, but has more than 800 applicants for these unit types. To address this huge need, KNHS approached Surrey Homelessness and Housing Society for support to redevelop its oldest building site which is deteriorating and underutilized. The project will ultimately increase the number of units from 33 three-bedroom townhouses to 176 one- or two-bedroom apartments. The additional units will significantly address the need for safe and affordable housing in Surrey for elders, youth, and small families living on limited incomes.
Surrey Youth Assistance Fund
Created by the Surrey Homelessness and Housing Society with an initial gift from an anonymous donor, the Surrey Youth Assistance Fund aims to reduce barriers to adult independence by supporting vulnerable youth in Surrey to access housing, education and training, and employment. Last year, for example, the Fraser River Aboriginal Friendship Association (FRAFCA) accessed the SYAF in order to support two youth. FRAFCA assisted Michael with purchasing a cell phone and provided peer support that lead to housing and employment; while Rhonda was supported through a critical housing situation and kept her and her newborn from homelessness. Michael and Rhonda are pictured above (photo credit: Amy Reid, Surrey Now). To help grow the Fund, the anonymous donor matched community donations 2:1 at the end of 2017, raising an additional $15,685 for youth in Surrey.