Lohbrunner Farm & The Foodlands Cooperative
Farming and food production are the foundation of our local food system and key contributors to regional economies, retention of natural areas, and community well-being. There is growing public awareness and enthusiasm around building a sustainable local food and agriculture system in BC. By supporting the establishment of the Foodlands Cooperative and contributing to the acquisition of its first farm, we are helping lead the way to make foodland more accessible.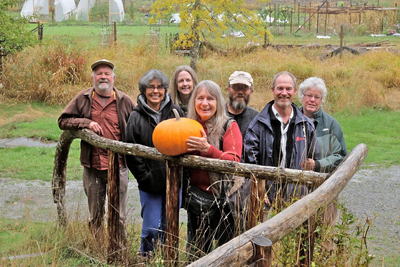 In 2016, FarmFolk CityFolk initiated a new Foodlands Cooperative together with a number of partners and with support from Vancity, Vancity Community Foundation and the Real Estate Foundation of BC.
The Foodlands Cooperative of BC accepts donations of land to make it accessible to a new generation of farmers and community groups and is at the forefront of encouraging alternative forms of land ownership to ensure our agricultural lands remain in production in perpetuity. They also help landowners, farmers, and local communities develop and support community farm models, conserve farmland, and build healthy, local food systems.
At the time talks were underway to establish the Foodlands Cooperative, Lohbrunner Farm came to the attention of FarmFolk CityFolk. With its long community history and dedicated group of volunteer farmers, it was an ideal first property for the Foodlands Cooperative. It wouldn't be easy to acquire the Farm. Held at the Land Conservancy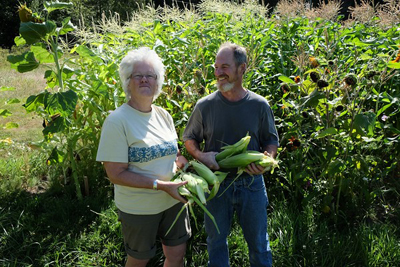 of BC, the legality of the sale had to be worked out and funds needed be secured.
In total $500,000 was secured including $300,000 in direct funds raised by FarmFolk CityFolk and the Vancity Community Foundation–consisting of a $100,000 private donation, $100,000 from the Community Farms Endowment Fund held at Vancity Community Foundation, and a program related investment from Vancity Community Foundation in the form of a $100,000 loan held by FarmFolk CityFolk. After many meetings, phone calls, and negotiations; ownership of the Farm transferred to FarmFolk CityFolk in September 2016.
While negotiations were underway, community members that had been volunteers on the farm formed the "Lohbrunner Community Farm Co-op", a service co-op operating under three main principles:
they will farm the land organically,
manage it to maintain biodiversity,
and work to support local food security and food production.
At the same time, the co-op will provide hands-on experience with farming to the community through educational programs and community events. The farm, which has 6 acres on a rich flood plane is now growing an abundance of berries and vegetables. The farmers are looking to turn another 3 acres into food production land and are offering farmers long-term and affordable leases for one or more acres – leases that come with collaborative support! 
It means a lot to me to be a part of the Lohbrunner Community Farm Co-op. Over the past seasons, working on some amazing organic farms; I have been gaining experience & skills, and continuing to cement my love of this craft.

With the desire to farm has come some anxiety around how to access land. It is no secret that land prices in BC are way beyond the reaches of many, especially young people who haven't yet built up their equity. Lohbrunner Community Farm Co-op, is able to offer me affordable, long term access to 2 acres of leased farmland: an opportunity too good to pass up!

And while working in a co-operative has its challenges; for me, being part of the community that is building around this farm, being part of a group of farmers and food lovers that is supporting each other, and having secure access to farmland without having to outlay the capital needed to buy land is valuable, and something worth putting in effort for.  
- Ariella Folkowski, Farmer
As a founding member of the cooperative to support this farmland I am thrilled to be pioneering the future of this land and all it can provide for the community with the support of Farm Folk City Folk and the VCF. I am most excited about giving young folks an opportunity to get their hands in the soil and experience what it means to look after the land, put food on their table, and support the future by learning what the environment has to teach them by having their own personal meaningful experiences.  

For me personally it is important as a newly retired health professional to build a new community around me as I transition into this next stage of my life, have meaningful physical productivity, and an opportunity to give back to the community through my efforts as a farmer, and still continue to apply the values and leadership skills of my profession to my daily life. I so look forward to working with the Cooperative who to this point has accomplished so much to uphold Norma Lohbrunner's vision of her land for the future good of the animals and birds, and the productivity of the farmland she and Joseph cherished.

-Diana Brubaker, budding Farmer and retiring Occupational Therapist