Social Change-Maker Codev is Beneficiary in Planned Gift
CoDevelopment Canada (CoDev) is a Vancouver-based, non-governmental organization (NGO) that links labour and community groups working for social change. In particular, CoDev's role is to build solidarity between workers in Canada and in Latin America.
Years ago, a small Donor Advised Fund was established by CoDev at Vancity Community Foundation to help support its operations. But this story became even more interesting through an unexpected act of giving. Thanks to the generosity of Owen Williams, the group's future was truly secured.
In the fall of 2009, CoDev received some bittersweet news. The organization learned that Owen, a quiet and humble supporter, had passed away, leaving a bequest to their endowment fund through his estate. CoDev staff were genuinely touched he had thought well enough of their work to consider them in his will. And they were surprised when they learned the magnitude of the gift, which was in excess of $1,000,000.
Owen Williams will be remembered as being a gentle, kind man. He and his wife Elsie were inseparable. In the years after her passing, Owen became friends with his neighbour, Chris Shelton. A long-time supporter of CoDev, Chris passionately shared a few anecdotes and feel-good stories with Owen about CoDev's health and education projects. Those stories must have made an impression for Owen to later name CoDev as the major beneficiary of a planned gift. Owen's contribution meant CoDev could continue working with partners to create long-term, meaningful, sustainable social change, reducing dependence on traditional government funding sources. The gift also stimulated a more active strategy to further grow this endowment, including a deeper relationship between Vancity Community Foundation and CoDev, as well as with a number of subsequent donors.
Cream, Sugar and a Touch of Human Justice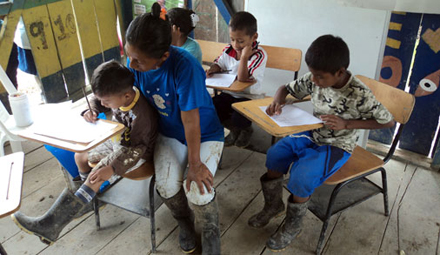 When you support the fair-trade, organic richness of Café Ético coffee – a social enterprise started by none other than CoDev – you're supporting humankind. Fifteen years ago, a start-up grant from the Enterprising Non-Profits program gave this passionate, coffee-bean loving group the means to eventually become one of the first fairly traded coffee companies to buy direct from Latin American farmer associations. As a social enterprise, it also generates additional funds to support CoDev's programs. Fast forward a decade and a half and Café Ético continues to pay its suppliers 20% more than the fair trade minimum. Even more impressive, a staggering 100% of profits help support human rights in Latin America.