The Kathi Fund
Held at Vancity Community Foundation, the Kathi Leblanc Innovation in Business Fund honours the life and work of Kathi Leblanc.  
 "I am positive that Kathi would have been so proud and happy to know that the Seafoam Juice was chosen as the recipient of this award in her honour."
- Christine Janssen, Kathi Fund Advisor
With a career that spanned three decades, Kathi was forever a champion of natural products and passionate entrepreneurs.  Starting first as an employee at Yves Veggie and Imagine Food, Kathi went onto become the principle of Fluid Creative, where she supported the launch and growth of dozens of natural brands. 
The goal of the Kathi Fund is to continue Kathi's legacy by identifying, nurturing, and supporting the next wave of Canadian female natural products entrepreneurs. In 2017 the Fund reviewed its first round of applicants; solopreneur, Chelsey Allen, was selected as the Fund's inaugural recipient.
Chelsey is based on the Sunshine Coast, where she loves being part of her vibrant ocean-side community and is inspired by the healing and nourishing power of the sea. So much so that she has named her business after the ocean: Seafoam Juice and Smoothie Bar.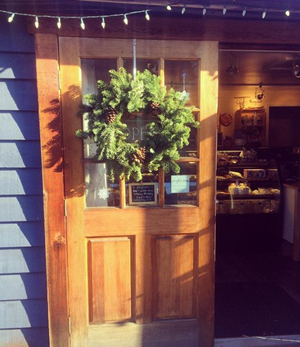 Chelsey runs Seafoam out of a shared 400sq-ft space that has all the rustic wooden charm you'd expect from an old building in Sechelt.  We asked Chelsey how we would feel when we stepped through the front door of her shop.  
"Confusion!" she exclaimed cheerfully.  "On one side of the shop, you'll find the most beautiful and exquisite baking – salted caramels and the most decadent sweet treats".  (A certified holistic nutritionist, Chelsey quietly adds that there are gluten-free, refined-sugar-free, and vegan selections, too.)
"And on the other side of the space," she explains, "it's a breath of lightness and rejuvenation". Bursting with the aroma of fresh ingredients including kale, spinach, apple, carrot, cucumber, celery and ginger; it's on this side of the shop that Chelsey works her magic. Using cold-pressed methods she transforms her ingredients into delicious juices or will whip up fresh made smoothies. All of which have whimsical ocean inspired names such as The Beachcomber, The Mermaid Lagoon, and The Green Splash.
What might seem an unlikely duo on the surface – baker & juicer – has been empowering. Together they've shared the costs of the retail storefront, making it possible to open-up their doors, while encouraging each other along the way. 
Chelsey discovered juicing several years prior while working towards her certification in holistic nutrition. At the time juicing was just gaining traction in the mainstream. She had purchased a beat-up old juicer and started mixing up green blends in her kitchen – not only did the boost of nutrition help her to balance her sugars (she has type 1 diabetes), she noticed she felt healthier and had more energy.  This led to experimenting with different recipes and a growing desire to share the wellness with others.  In time she decided to sell juices at the local farmer's market and was buoyed by an enthusiastic response. Next, SFU's Local Entrepreneurship Accelerator Program (LEAP) enabled her to reach a network of emerging and established entrepreneurs that acted as a sounding board and provided insight into her business planning. 
For Chelsey, juicing inspires mindful eating habits and connects people to plant based health. Her connection to the land and the community is a ripple effect of that – nourishing a greater sense of well-being and of caring for one another and our planet. 
"Sometimes you get caught up in the day to day rigors of the business,  you feel like you're going through the motions, but you always have to come back to the rootedness and mindfulness. As soon as you do, it restores balance and also helps you serve others."   
- Chelsey Allen
Her juicing by-products do not go to waste; the vegetable pulp is either repurposed into delicious crackers (in the summer) or contributed to a local farm to be used as compost (in the winter). All of her fresh produce is locally and sustainably sourced; Chelsey is actively building relationships with farmers across the Sunshine Coast.  She chooses packaging that is recyclable and/or biodegradable and she provides incentives for people to re-use their to-go cups. 
It was last fall that Chelsey's mom had called excitedly to tell her about The Kathi Fund.  Chelsey recalls it well. It was the first time she'd heard about any kind of grant for a small business, and in fact, she'd been told often there was no such thing!  She was amazed to learn that the Kathi Fund existed specifically to support natural product entrepreneurs like herself who are passionate and dedicated to business success while pursuing a vision for a better world.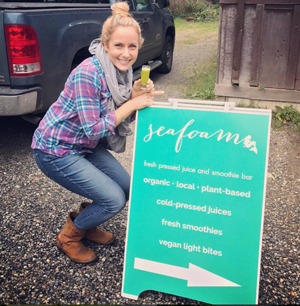 With her passion for juicing and her commitment to the health and well-being of her customers and community, she was a natural fit. Chelsey will receive $1000, as well access to mentorship and support, and $10,000 worth of creative services from Fluid Creative. 
The timing is everything. Chelsey's business is growing and she has some big decisions to make about product direction and growth. She's looking forward to meeting the folks at Fluid Creative to explore what might be next on the horizon for Seafoam Juice and Smoothie Bar.
Congratulations, Chelsey!