Mom2Mom pairs mentors with those in need of support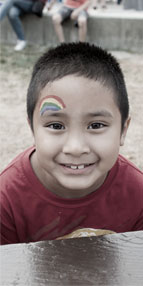 The work of Mom2Mom (M2M) Child Poverty Initiative Society is based on research in child development and neuroscience, which has shown that enriching children's environments by lowering levels of family stress, and connecting mothers to their child's school and to community, leads to positive changes in children's learning and development. When these things are in place, children are happier, better adjusted and more likely to succeed in school. Mothers are better able to nurture and attach to children when they aren't struggling every day to meet basic needs. In this way, the cycle of poverty and adversity can be broken and children can look forward to improved life chances.
To achieve equality, social justice and well-being for all people in our communities, we need to understand and address poverty at its root causes. Creating an alternative future calls for deeper engagement and a shift toward seeing opportunity rather than despair. We believe that we're all better off when we're closer connected.
- Melinda Markey, Executive Director, Mom2Mom
To that end, M2M pairs moms and their children living in poverty with volunteer mentors – who are also moms. These mentors, in turn, provide respectful, practical, and non-judgmental support.
M2M started in 2011 and was soon in the enviable position of having people want to support them financially. But they lacked charitable status or the infrastructure to receive donations. A Donor Advised Fund was set up at Vancity Community Foundation to receive donations in this start-up phase, and to help develop a longer-term strategy for planned giving. With the support of Vancity Community Foundation, M2M has been able to further engage their network of volunteers and support them in grassroots fundraising. With charitable status now in place, we can move dollars more directly to the organization. As Mom2Mom continues to grow, the organization looks forward to a future that enables moms to be the best parents they can be.