Megaphone Magazine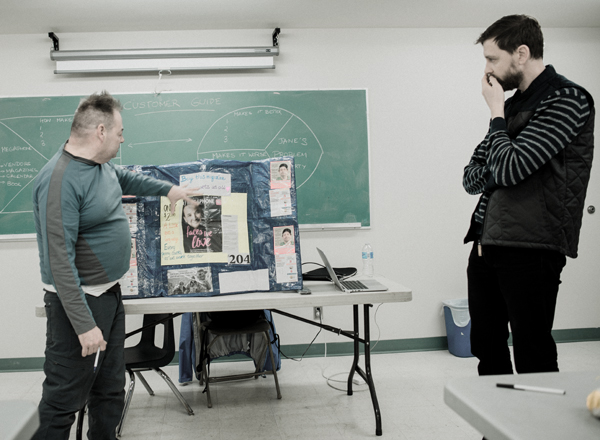 Megaphone vendors often feel overwhelmed by trying to sell the magazine on the streets. It is intimidating and involves a lot of rejection, which can be difficult to absorb. Vendors feel pressure to make a sale to every person who passes by. New vendors often get discouraged.
As part of VCF's commitment to strengthening social enterprise, and in order to help vendors with their sales, our social enterprise developer, Sean Condon, worked with Megaphone to develop a workshop that would give vendors some tools to better understand where their customers are coming from. Using Megaphone's customer survey data and the value proposition canvas, Sean worked with the vendors to identify key customer segments and to build value proposition for them. This helped vendors to know how to pitch their sales. Vendors took away a better understanding of what goes on behind a sale – that it's often an emotional process for the buyer and that it takes time. Purchasing the magazine is rarely an impulse decision.
Together, they then created strategies using a sales funnel so that they could focus on key customer segments, instead of trying to see everyone in a big crowd as a potential customer. The strategies involve moving key customer segments through three stages: awareness, engagement, and sale. With vendors providing ideas to each other, they discussed what they could do in each stage to increase the funnel. The training also addressed how to close the sale: you have to ask!
With the sales funnel, vendors could use a common sales tool, and also see that they're not expected to be making a sale to everyone. It became clear that it is normal for vendors to only make a percentage of sales from their prospects. This takes the pressure off new vendors to generate immediate sales while building strategies to increase sales over time.