Kathi LeBlanc Innovation in Business Fund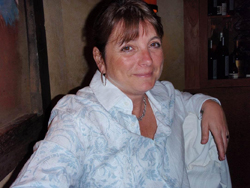 The "Kathi Fund" honours the life and work of Kathi Leblanc. Kathi was forever a champion of natural products and passionate entrepreneurs. Kathi's career spanned three decades working in the natural products category, first as an employee at Yves Veggie and Imagine Food and finally as principle of Fluid Creative, where she supported the launch and growth of dozens of great natural brands.

Christine Janssen (Kathi's Life Partner and Natural Products champion in her own right), Brian Saul (Kathi's business partner and co-founder of Fluid Creative) and Gail Mountain (Kathi's long-time friend, mentor and founder for Indigo Natural Products) invite you to make a donation in honour of Kathi and in support of Female Entrepreneurship and a thriving Canadian Natural Products Industry.
the kathi fund awArd
The goal of the Kathi Fund is to identify, nurture, and support the next wave of Canadian Women Entrepreneurs of Natural Products.
The application process for the Kathi Fund Award is currently under review. We thank all potential applicants for their interest, and ask that you check back for updates as they become available.